Our Principle of Japanese Language Education: "Students themselves discover, consider and explain."
Since its foundation in 1988, TLS has set a mission that we make a real contribution to international society through language education. With our motto that we nurture talented individuals with initiative, and based on the educational ideal, "Students themselves discover, consider, and explain," we aim to produce quality graduates to enter higher education institutions or be active in their chosen industry.
JCT Education System

There are three basic principles behind any individual's progress:
"Always have a goal when you start something," Be aware and ready to change yourself," and "Have good habits and stick to them."
At TLS, we incorporate these principles into our Japanese educational program, so students are assured of real improvement in their Japanese language skills.
JJM(Jikei Japanese Monitoring)

This is TLS's unique tool to monitor students' Japanese level. Giving due consideration to the trends evident in the JLPT and EJU, our staff draw up questions in line with TLS curricula. The questions range from elementary to advanced level, so all students can take part. Thanks to JJM, we are now able to evaluate students' Japanese skills in detail and set each student's targets accurately.
Counseling・Target setting

Taking into account the results of JJM, class teachers provide individual counseling to each student. They encourage students to analyze themselves, describing the student's current situation from the teacher's viewpoint, pointing out problems that the student is unaware of, and setting the student's targets for the following term.

Counseling Sheet
Even in a class of elementary level, the characteristics of each student's ability differ enormously from individual to individual. Some students are skilled at vocabulary usage, while others are good at understanding the general meaning of sentences.
A counseling sheet is made based on the results of JJM, and it enables students to get a clear and immediate understanding of how well they are performing on each item of each subject. Counseling is conducted based on these sheets, allowing students to recognize their own level of skills, and so suitable targets can be set for the following term.
Thanks to counseling based on these sheets, students can recognize their own skills accurately and can set suitable targets for the following term.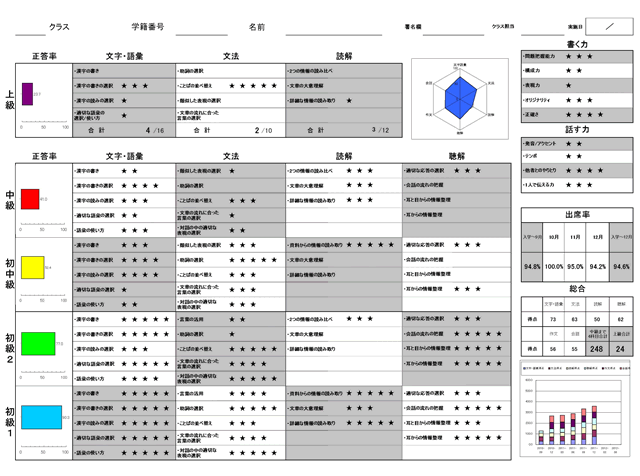 Counseling Notes
This is one of the communication tools used between students and teachers. Using these notes to deal with a broad spectrum of topics, such as reviewing study plans, questions arising from something experienced in daily life, and organizing information about higher education, we can confirm and adjust each student's approach to keep them moving in the right direction in their studies.

---

〒134-0088
東京都江戸川区西葛西7-6-3 
TEL.03-5605-6211 
FAX.03-5605-7744
mailto:info@tls-japan.com